It's better late than never! PrimeOutsourcing has finally taken some time off from the mundane tasks at work and enjoy a fun and relaxing weekend at the beach with the team! It's true when they say that "All work and no play makes Jack a dull boy," every once in a while it's necessary for everyone to step away from the hustle and bustle way of living of the city life.
PrimeOutsourcing family recently had their team building last June 22-23, 2019 at Estrella Mendoza Beach Resort in San Juan, Batangas. It was indeed the last hurrah before the summer ends, just in time before the start of the rainy season!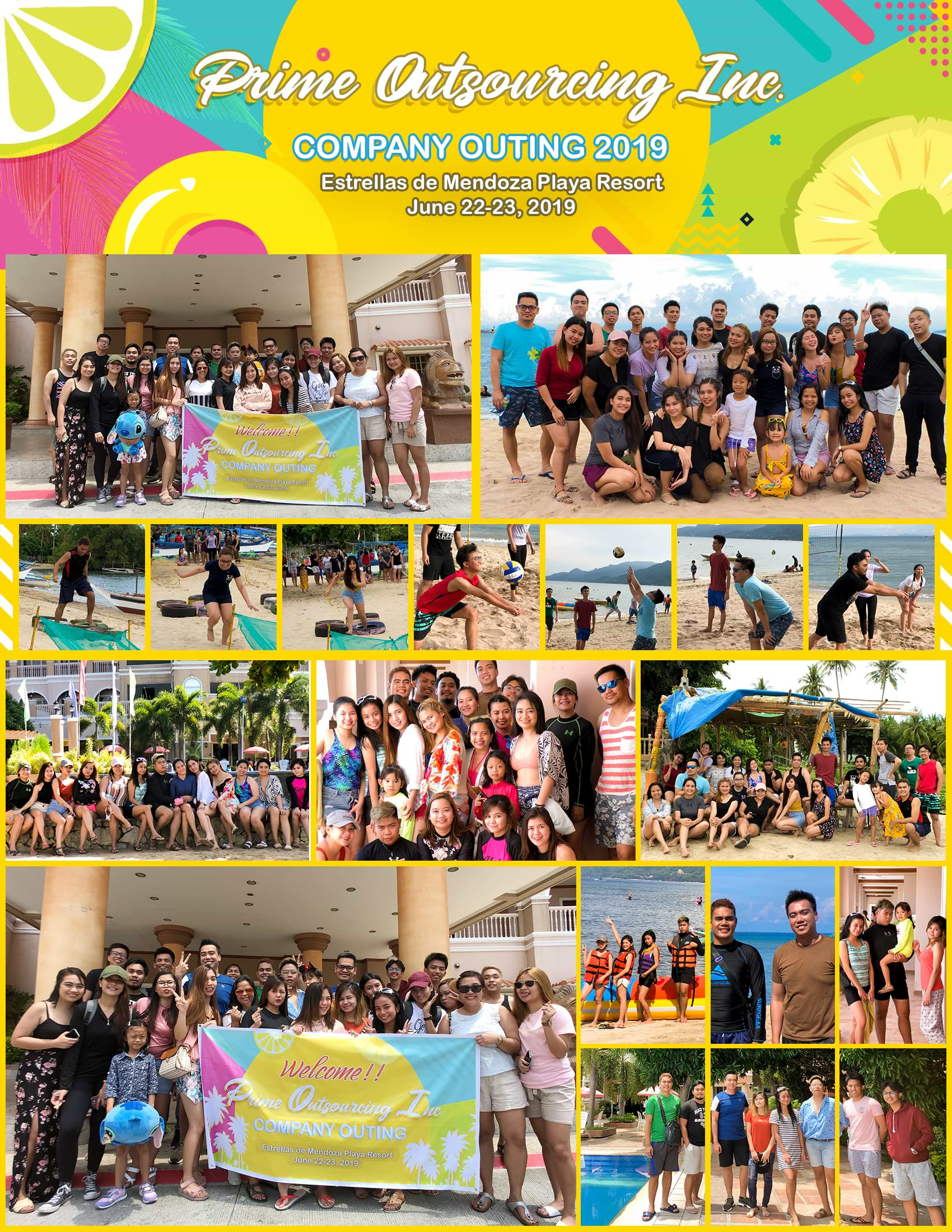 There was never a dull moment with the whole staff. The 4-hour ride going to Batangas was filled with laughter and non-stop entertainment. Each staff belted their hearts out during a karaoke session while on the road. Arrival at the resort was at noon after which, lunch was served. At 2 pm, each group was given some time to check in their respective rooms and rest for about an hour.
At 3 pm, everyone gathered at the beachfront for some recreational activities. Some of the staff even enjoyed a volleyball game with the CEO and owner of the company. After the team building, all changed in their swimming clothes and dipped in the salty waters.
At around 7 in the evening, everyone gathered at one of the event rooms at the resort for dinner. It's no secret that the PrimeOutsourcing staff is not just blessed with skills but as well with talents! All have yet again bonded over another round of Karaoke but this time with some booze!
The following morning was quite eventful, breakfast was served at around 7 am. The team took pleasure in some beach activities during their remaining hours at the resort. Highlights of the morning activities were the banana boat ride and snorkeling.
Lunch was then served at 12 noon and the time for checkout was at 2 pm. It was a quiet ride going back, the energetic bunch got a little tired of the morning activities. However, what's important is that everyone had a pretty awesome time during their weekend trip.
Everyone had a stronger bond than ever and needless to say, the memories created! To top it all off, it was an all-expense paid! All are definitely looking forward to next year's festivities!