Once in a while, businesses will likely get through slump–no matter how big or small they are–and outsourcing to a staffing solutions provider is a great way to deal with this problem. This is also a great opportunity for businesses to reorganize and change their approach. Having a temporary staff will allow you to take full advantage of their services. This can be time and cost-efficient compared to hiring permanent employees. Discussed below are the outsourcing benefits of a staffing solutions provider.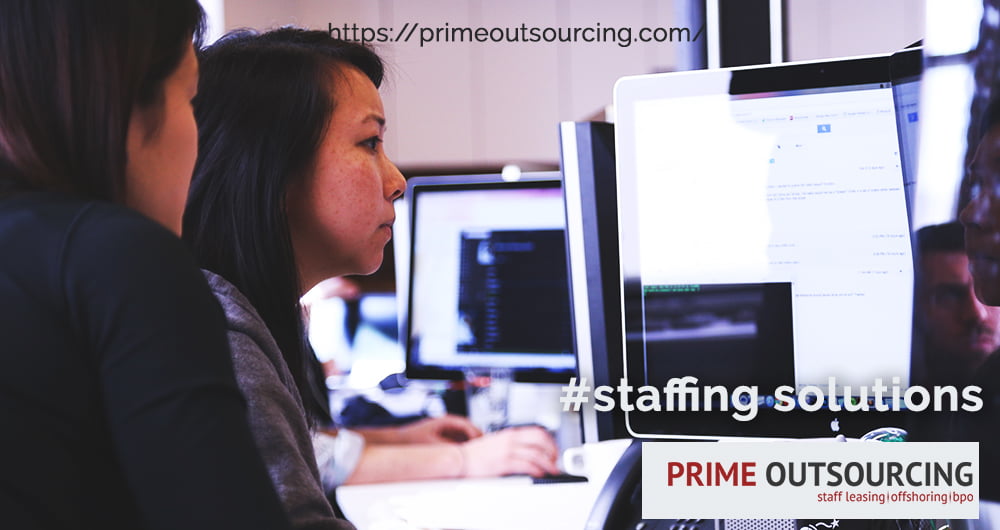 Outsourcing Benefits of a Staffing Solutions Provider
1. Expertise
Outsourcing to a staffing solutions provider will ensure that you are only getting the best in the industry. Staffing solutions are always held to specific and higher standards especially in comparison to small businesses where their HR departments may be lacking in skills and knowledge. A great staffing solutions provider will help you find the right person for the job. Finding the one the fits your business needs will ensure that the staffs you are hiring for a specific time frame are effective in their tasks or jobs.
2. Cost-efficient
Hiring temporary staff can be cost-efficient especially if permanent an employee is not necessarily needed. Going through the trouble of recruiting on your own will cost you time and money. Instead, getting an expert to do the job will save you time and is more cost-effective. Outsourcing to a staffing solutions provider will also make the recruitment faster allowing you to focus on your business.
3. Talents who can meet business demands
There is an endless number of skilled professionals waiting to get hired for their expertise so your options are not limited. Staffing solutions providers are held to higher standards. There are an array of outsourcing companies that provide staffing solutions like PrimeOutsourcing.
4. Secured hiring
Outsourcing to a staffing solutions provider can help decrease the risks that come with hiring employees. With their knowledge in the business, staffing solutions providers will help you go through every candidate thoroughly. This will help you have a secured hiring and protect you against industrial actions.
5. Flexibility
Outsourcing your staffing needs is free from any commitment. You don't have to worry about going through layoffs. Hire a temporary employee to do the job and you're good to go. You're free to increase or reduce them when the tasks are done.  Recruiting the right people when necessary is more beneficial than having to hire permanent talents.
PrimeOutsourcing's staff leasing service is a cost-effective way of outsourcing your tasks to skilled professionals. Contact us today to learn how we can help you.