What's more fun with having a job that makes you feel like you are part of a family especially during summer vacations? Well, Prime Outsourcing is one of those companies who let their employees relax and enjoy once in awhile. Taking a break from your busy day at work is the best thing to have. It is like a sort of refreshment to keep your body and mind alive and ready for new tasks. This kind of event is the most-awaited time of the Prime Outsourcing staff because they can fully take this opportunity to unwind and create new memories with their co-workers.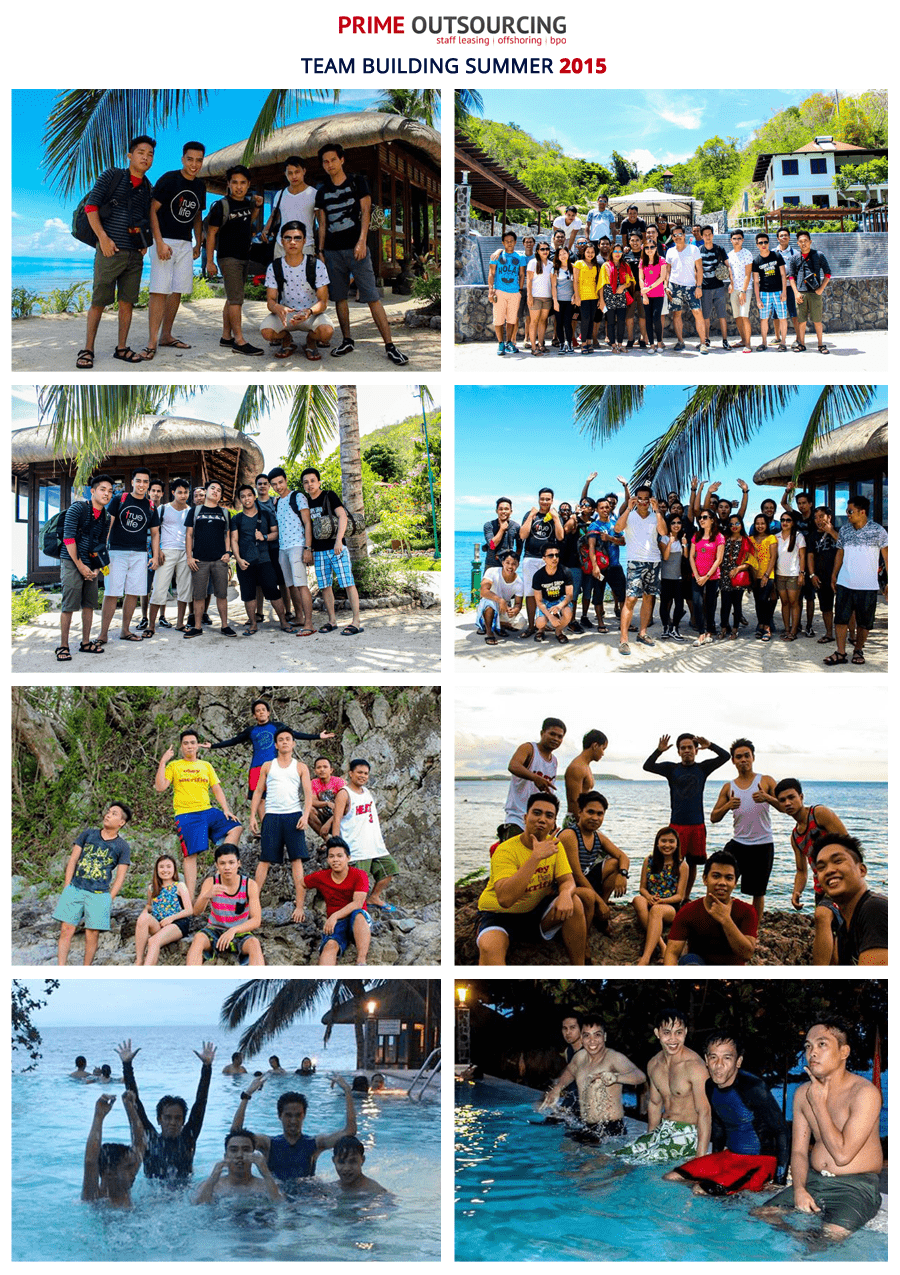 Last summer of 2015, Prime Outsourcing had its fun and memorable outing as a part of their yearly trip of relaxation and team building. It was the fourth year of their annual trip which was happened last June 13 and 14. This two days trip is good to have after a long and tiring working days. Although it is a little late for summer outing which we usually do here around April and May, they still found time for this event. Nothing is going to stop them to make this event possible every year. They headed to Laiya, Batangas and stayed at Palm Beach Resort to enjoy and wear their colourful summer outfits. Laiya, Batangas is one of the best places to feel the sand and sea while Palm Beach Resort has lots to offer when it comes to accommodations, foods and activities. The resort they had chosen was the best because it has both pool and near to the white beach which everyone can enjoy and choose freely where to go.
The employees enjoyed activities such as banana boat, strolling on the beach and swimming. Who will never enjoy summer vacations anyway? Some employees just like to cherish memories with their cameras and enjoy the moment. Chatting while near at the white sand beach is the best thing that every employee may want during summer vacations as well as sipping their favourite cold drinks. The view looks so alive and happy that anyone can have their "chill-time" while staring on that vibrant blue ocean and their skin feeling the hot rays of the sun. No vacations will be completed without funny ""selfies" and group photos. Other things that they enjoyed the most are the foods which everyone loves and the cold drinks while at that relaxing place. Days like these without worrying anything especially about your job are amazing and attitude-changing when you get back to work. Everyone needs a break and when the management at work purposely give it to you, just go for it.
Summer outing is the best way to keep the team closer to each other and makes them more passion-driven. Every company should have this kind of event so that the people who are part of the team will feel like they are appreciated and it will make them motivated. Memories like these should be treasured and make it an inspiration to continue growing in a more productive way.
Cheers to more years of summer outing!