Search Engine Optimization or SEO is a very huge topic and learning everything all at once might give you a little headache. However, if you already have an idea of the basics such as on-page optimization, maybe it's only about time for you to learn about SEO link building, particularly, white hat SEO.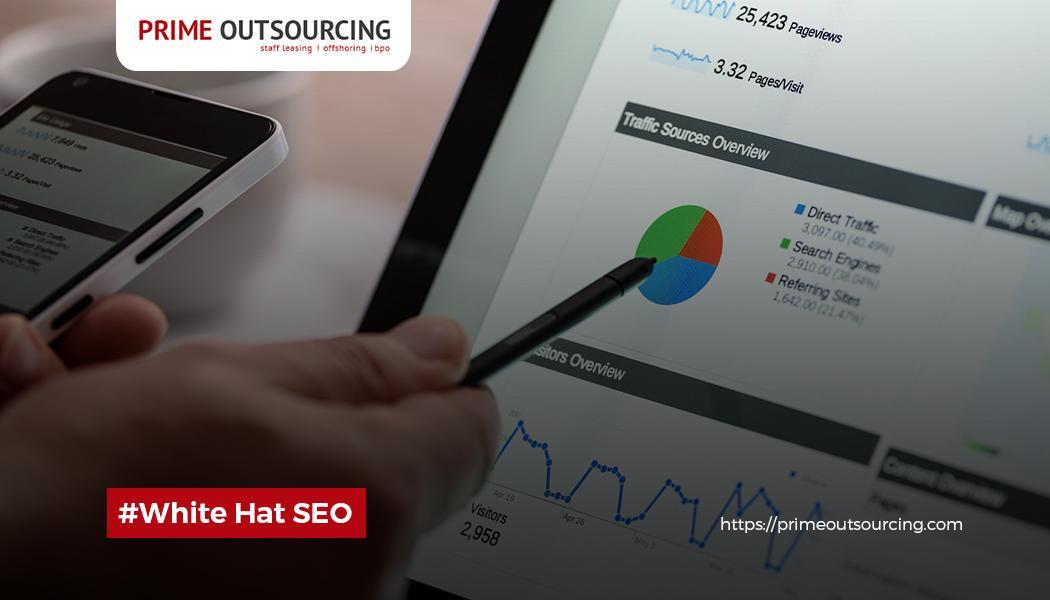 In the SEO world, you'll eventually know that you'll need to wear different colors of hats. You will be introduced to a black hat, grey hat, and a white hat. Understanding how does the three of them differ from one another is the first step you need to know so you'll not get lost in the world of SEO.
The Three SEO Hats
According to Webopedia, black hat SEO is just how it sounds like. It refers to the illegal, dark and aggressive SEO tactics which only focus on pleasing the search engine rather than the human audience. Black hat SEO practices also often do not comply with the SEO guidelines. These tactics may include invisible texts, page swapping, doorway pages, and keyword stuffing.
On the other hand, white hat SEO refers to the legal SEO techniques and strategies which focus on the human audience and entirely obeys that SEO policies and guidelines. These strategies include keyword usage, keyword analysis, content writing, backlinking and link building. 
Lastly, grey hat SEO, as stated by Chron, is the combination of white hat and black hat SEO techniques. These actions may include invisible texts and keywords and link baiting. 
Why Practice White Hat SEO?

Well, as much as it is the most legal and the right thing to do, white hat SEO is also highly advisable to use as it is a great advantage for a long term SEO strategy. Black hat and grey hat strategies might give you quick results but you will eventually regret it once you get punished by Google. 
Best White Hat SEO Practices
1. Content Writing and Promotion
You can start with content writing and promotion as your first white hat strategy. Utilize your very own blogs to build links. Linking your own webpages to your own blog is what you called internal linking. However, make sure that you are using highly-relevant and competitive keywords in your blog so that Google and other search engines will be able to analyze what your content is all about. You can also link your blog to other websites or use outbound links. Who knows, You might be able to receive backlinks?
2. Guest Posting
With guest posting, you have to remember that reaching out to the most reputable sites in your industry will allow you the best exposure. Placing a blog written by you on another website will give you an opportunity to receive a high-quality backlink. 
3. Increasing Social Media Shares
Learn to make the most out of the different social media sites. Social media is another way to expose your content to a larger range of audiences and generate quality backlinks. Engaging with the social media community will encourage them to share your content. Thus, also make sure that you have provided accessible share buttons on your blog post.
4. Creating Online Connections
Another way to introduce your brand is to build relationships in the same industry by joining Facebook groups, liking and sharing others' content and taking part in the forums. Make yourself pretty active by constantly communicating with them. You might not realize it at first but it is also somehow another way to build authority to your specific niche. 
5. Utilizing Directories and Business Listings
Make it a point to utilize web directories and business listing sites because this is also another way to help your audience find you easily. Do not forget to create a business listing using Google, Yahoo, Facebook, and Yelp. If you want to create other listings on other sites, you must check their Domain authority and page authority first to make sure that it will be helpful to your white hat SEO strategy.
These are just a few of the techniques to help you get started with white hat SEO. Other strategies may include blog commenting, providing testimonials, mobile optimization, infographics creation, and building linkable assets. 
SEO is a bit tricky and confusing, most especially if you are just starting. Thus, calling for expert help is sometimes really necessary. Fortunately, aside from website and content professionals, PrimeOutsourcing also has a team of online marketing specialists, consists of an SEO, SMM, and SEM consultants. If you want to know more about them and the ways on how they can solve your SEO concerns, click here.