Once a year, we have this season called Halloween and Prime Outsourcing always organize their Halloween party. They take time to organize this event and feel the Halloween spirit. It is an event of the year where employees and staff wear their favourite scary costumes and paint their faces. It is also the best time to let everyone open and show their hidden creativity when it comes to designing costumes and wearing makeup. Employees turn themselves into a panda, a witch and other scary things inspired by different horror movies. They also decorated the reception desk with smiley scary pumpkins and put up the words "HAPPY HALLOWEEN" to spice up the Halloween season mood.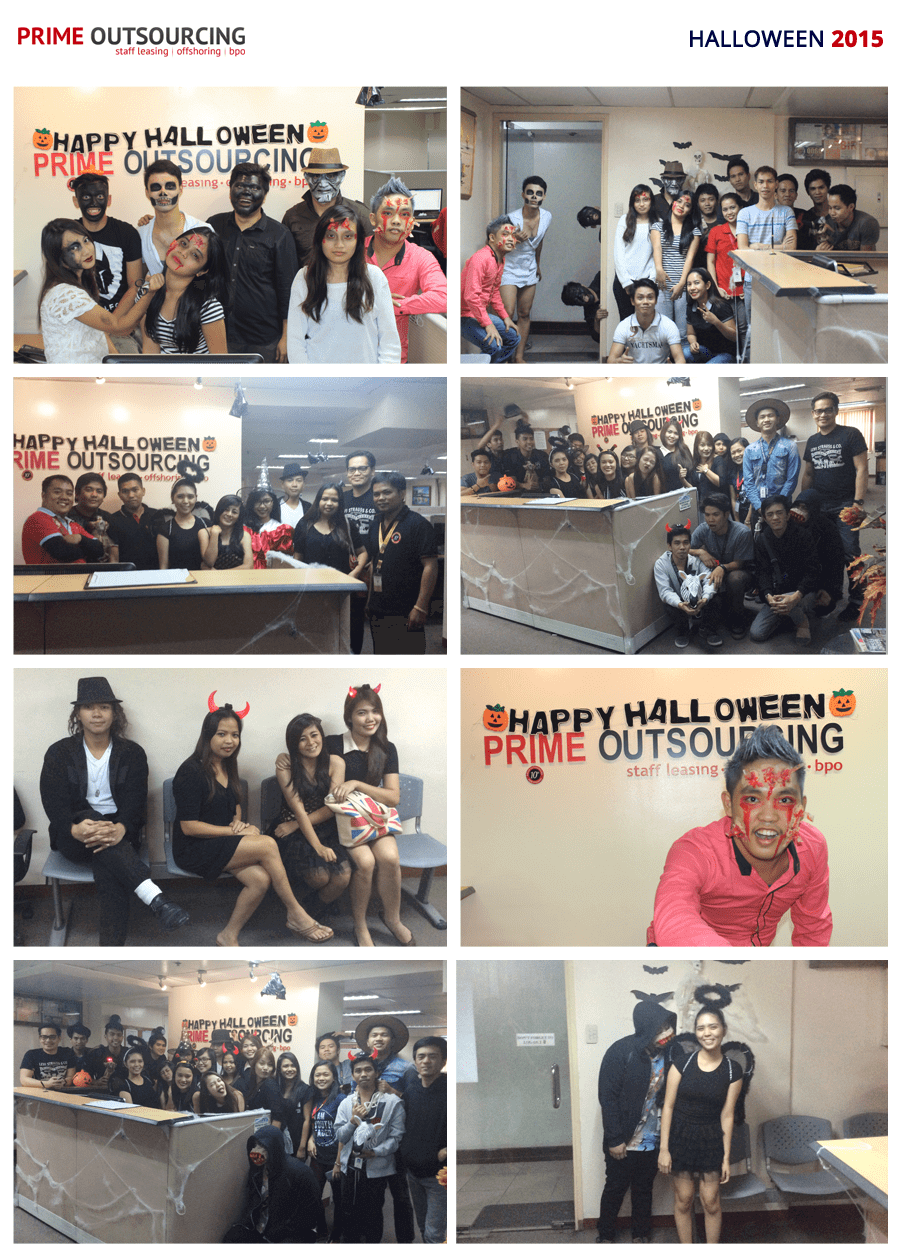 Everyone participated in the contest for the scariest costumes. It was held last October 30, 2015 at their office located at 6th Floor Summit Building, Mandaluyong City. It is just a small and simple party yet everyone enjoyed it.
This Halloween was a party which consists of foods, costumes and fun. Of course, a party is not complete without foods fun and prizes. Anyone was happy while wearing costumes and face paints. Although there were no candies for the kid's trick or treat, we're sure that they did something about it if they had some cute little people visitors. It is common here that company let some children in their cute little costumes to be inside their offices and give candies during Halloween season.
After they made this Halloween party, they continued to work in the office while wearing costumes which was funny and entertaining. Well, this is just a once a year kind of event and it's good to feel it even at work. They also took funny photos to cherish the memories upload them on their social media accounts to share their happiness and to let everyone see it.
Here is the list of winners for Halloween party contest 2015.
Morning Shift
1st Place: Innah Mae Ramos
2nd Place: Reinielle Pasco
Night Shift
1st Place: Joshua Quirante
2nd Place: Zhandra Habig
OJT winner: Ezra Pauline Ramones
Organizing company events like this can bring a little excitement to employees and staff. Being creative and enjoy small yet fun events like this at work will refresh each minds from their daily tasks. Working people need it once in awhile. Everyone was gathered and had fun together.
Congratulations to all the winners and we're looking forward for more Halloween parties!